Forse tutti morti i dispersi della collisione al largo del Giappone
Commenti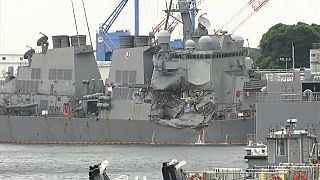 Probabilmente tutti morti i marinai che mancavano all'appello dopo la collisione tra un cacciatorpediniere statunitense e un mercantile filippino, nelle acque del Giappone. Fonti della marina statunitense sostengono che siano stati rinvenuti sette corpi, ma la US Navy non specifica i numeri e rimanda la conta ufficiale al momento in cui le famiglie dei dispersi saranno informate.
Bodies of all 7 missing sailors from USS Fitzgerald found in flooded compartments after collision, official says. https://t.co/HBFztTxcsqpic.twitter.com/o98aEPSpvY

— CNN (@CNN) 18 giugno 2017
Al pari dei media giapponesi, la

CNN

cita una fonte della US Navy per sostenere che "tutti" i corpi dei sette marinai dati per dispersi siano stati ritrovati
#BREAKING: Number of #USSFitzgerald Sailors' remains found. Names will be released after all notifications - https://t.co/RDGA4jwaVkpic.twitter.com/pJudw4Qw2w

— U.S. Navy (@USNavy) 18 giugno 2017
Misurate le informazioni della Marina

USA

, che si limita a parlare di "un certo numero di corpi ritrovati", rimandando i dettagli a un secondo momento
La polemica su tempi di allerme e soccorsi
Ad alimentare polemiche e interrogativi è intanto anche la tempistica di soccorsi ed allarme. "Al momento non sappiamo – ha detto il comandante della Settima flotta, il Vice-ammiraglio Joseph Aucoin – . Si tratta di un dato che emergerà dalle indagini. Si è comunque trattato di un impatto violento, che avrebbe potuto far affondare la nave".
Il mercantile filippino: un "mostro" grande tre volte il cacciatorpediniere
USA
Tutti indenni i 20 uomini dell'equipaggio del mercantile coinvolto, che misurava tre volte il cacciatorpediniere. Tre invece i feriti a bordo di quest'ultimo, tra cui lo stesso comandante della
USS
Fitzgerald, che sono stati trasportati all'ospedale militare dellavicina Yokosuka. L'incidente è avvenuto a 65 miglia nautiche a sud-ovest della città giapponese, quando buona parte dei 285 uomini del cacciatorpediniere statunitense erano nel sonno. Le autorità giapponesi incaricate delle indagini non escludono la negligenza o l'errore umano.