Elezioni Regno Unito, i conservatori della May sempre in testa. Incalzano i laburisti
Commenti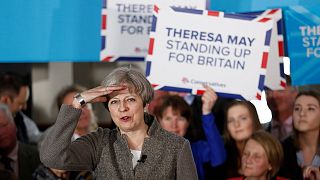 Una battaglia che potrebbe riservare non poche sorprese. In Gran Bretagna è entrata nel vivo la campagna elettorale per le elezioni anticipate chieste dalla premier Theresa May e fissate per l'8 giugno.
Labour gains in British polls, but May's party keeps strong lead https://t.co/P6pXbarEZepic.twitter.com/oVKQrQ9mUQ

— Reuters UK (@ReutersUK) April 30, 2017
Se i conservatori sono sempre in forte vantaggio, secondo gli ultimi sondaggi, i laburisti ora incalzano, sperando di dare un po' di filo da torcere al partito della May che resta comunque sicura del successo del suo operato. "Dobbiamo lavorare insieme per continuare a crescere", sostiene la May. "Per questo ogni voto, dato a me e al mio per partito, servirà a rafforzare il nostro impegno nei negoziati sulla Brexit."
EU threatens Theresa May on trade talks and its citizens' rightshttps://t.co/2h8ZHtUWF2

— Katherine Stylianou (@styliakd12) April 30, 2017
Non demorde l'avversario numero uno della premier britannica. Jeremy Corbyn è convinto che la partita non sia affatto chiusa. Il leader laburista, senza mezzi termini, attacca i Tories sostenendo che preferiscono fare promesse incredibili sul futuro del Paese fuori dalla UE piuttosto che ammettere di aver fallito nella loro politica in questi ultimi sette anni.
Insecure leaders want to feel strong by asking you for more power. I know that strong leadership means equipping you with more power. pic.twitter.com/ywU7qzMBkY

— Jeremy Corbyn MP (@jeremycorbyn) April 29, 2017
Intanto il 54% degli inglesi dichiara di preferire come Primo Ministro la May piuttosto che Corbyn, con solo il 15% di sostenitori. Resta ampia la quota degli indecisi che supera il 31%. Decisive le mosse nelle prossime settimane.