Damasco: fuoco su un deposito degli Hezbollah
Commenti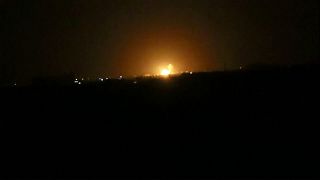 Sarebbe stata Israele a colpire stamane all'alba un deposito di armi presso l'aeroporto di Damasco, cioè uno degli arsenali di approvvigionamento per gli Hezbollah libanesi.
Allegedly video of the #Damascus International Airport tonight on fire after what are claimed to be Israeli airstrikes. pic.twitter.com/jftHcxtyQ2

— Vince Beshara (@Jacm212) 27 avril 2017
Un'alba di paura quindi nella capitale siriana in cui è asserragliato da 6 anni il Presidente Bashar al-Assad appoggiato da Russia, Iran ma anche dagli Hezbollah.
L'operazione corrisponde bene alla politica diretta di Tel Aviv che punta a soffocare il flusso di armamenti in provenienza dall'Iran.
La Siria è al sesto anno di una sanguinosa guerra civile nel confronto fra Bashar al-Assad e le forze d'opposizione. Un conflitto che ha lasciato sul campo più di 400.000 morti.