Ungheria, nuova protesta contro Orban
Commenti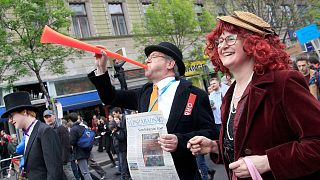 In circa 5.000 hanno marciato per le vie di Budapest in una delle ennesime proteste contro il primo ministro ungherese Orban e quelli che sono stati definiti i suoi attacchi contro la democrazia e i diritti umani. Molti gli slogan ironici e provocatori riferiti al governo attuale che hanno sfilato nel corteo da: "non abbiamo bisogno di elezioni" a "abbasso la libertà di stampa".
Thousands attend satirical peace march for "Russia and the Hungarian government" organized by Two-tailed dog party in Budapest pic.twitter.com/gu93Fndnc0

— Viktória Serdült (@sviki1980) 22 aprile 2017
La protesta è stata organizzata dall'unico partito che ha apertamente messo in discussione, anche in passato, le politiche anti – immigrazione del regime Orban, l'ungherese MKKP.
La marcia segue di pochi giorni la mobilitazione di piazza per difendere la chiusura della Central European University, contro la legge sull'istruzione superiore voluta dal primo ministro ungherese. Un provvedimento contro il quale si è mobilitata anche la Commissione Europea che ha minacciato di intervenire legalmente.