Egitto, duplice attentato alle chiese cristiano-copte
Commenti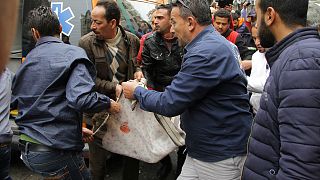 E' la Domenica delle Palme degli attentati in Egitto contro la comunità cristiano-copta, la minoranza che rappresenta il 10% della popolazione. Due attacchi rivendicati dallo Stato Islamico hanno colpito prima una chiesa a Tanta, a nord del Cairo, provocando la morte di 27 persone e poi la cattedrale di San Marco ad Alessandria.
The church bombings, which killed at least 40 people, happened weeks before Pope Francis was to visit Egypt https://t.co/m8yGMc2mSf

— The New York Times (@nytimes) 9 aprile 2017
Qui, il bilancio è di 16 morti e 41 feriti. La tv di stato ha riferito che a compiere l'attentato sarebbe stato un kamikaze che si sarebbe fatto saltare davanti all'entrata dell'edificio dopo aver tentato di irrompere nella cattedrale, prima di essere fermato da alcuni ufficiali dell'ordine pubblico. All'interno si trovava anche il patriarca della chiesa copta egiziana, Tawadros II per la celebrazione della messa della Domenica delle Palme, che non è stato convolto nell'attentato.
#Egypt's Sisi has ordered military deployments to protect 'vital infrastructure' after #ISIS attacks on churches https://t.co/ID5G8YeQXEpic.twitter.com/MZf3iMPel0

— Al Arabiya English (@AlArabiya_Eng) 9 aprile 2017
Il presidente Sisi ha dichiarato lo stato d'emergenza per 3 mesi, in seguito alla strage. Diversi soldati saranno inoltre dispiegati, su ordine del presidente, per la protezione delle "infrastrutture importanti in tutto il paese". Questo il contenuto di una nota divulgata al termine della riunione del Consiglio nazionale di difesa.