Fra le vittime di Londra il poliziotto-eroe, una giovane mamma e un turista americano
Commenti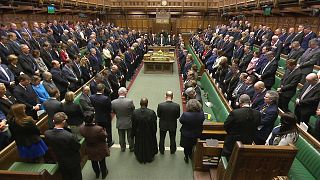 Hanno tutte un nome e un volto le quattro vittime dell'attentato nel cuore di Londra, oltre all'attentantore rimasto ucciso. La quarta vittima, un uomo, è morto nella notte in ospedale per le ferite riportate.
Oltre 40 feriti, tra cui due italiane. Ventinove sono ancora ricoverati in ospedale, sette versano in gravi condizioni.
A perdere la vita, in un pomeriggio come tanti altri, Keith Palmer, il poliziotto che ha cercato di impedire che il killer accedesse al palazzo del Parlamento. L'agente-eroe aveva 48 anni, sposato, padre di famiglia, era arruolato nella polizia da 15 anni, prima era stato un militare nell'Esercito.
The only image worth sharing today: heroic minister Tobias_Ellwood</a> trying to resuscitate stabbed policeman <a href="https://t.co/F4uze7z2lE">pic.twitter.com/F4uze7z2lE</a></p>&mdash; Sebastian Payne (SebastianEPayne) March 22, 2017
Nel triste elenco anche Aysha Frade. 43 anni. E' stata investita dal killer mentre stava andando a prendere a scuola le sue bimbe di 8 e 11 anni. Nata in Inghilterra, la sua famiglia era originaria del Nord della Spagna. Sul suo profilo Facebook aveva sempre un sorriso nelle foto accanto alle sue figlie e al marito portoghese.
RIP Aysha Frade, killed on Westminster Bridge yesterday as she walked to collect her kids from school. pic.twitter.com/Si8r2No8Xm

— London Updates (@LondonUpdates) March 23, 2017
E poi ancora Kurt Cochran, un turista americano di 54 anni. Era a Londra per una vacanza con la moglie, rimasta ferita, per festeggiare i loro 25 anni di matrimonio. Il 22 marzo era il loro ultimo giorno nella City, prima del ritorno nello Utah.
Fam spokesperson just sent me these pics of Kurt Cochran &his wife Melissa.We're told he died of injuries, she's hospitalized. #londonattackpic.twitter.com/fjyFdqeyoa

— Caitlin Burchill (@newsyCaitlin) March 23, 2017
Per ricordare le vittime, il Regno Unito si è fermato. Un minuto di silenzio alle 9.33, orario scelto per omaggiare il coraggioso poliziotto il cui numero di matricola era '933'.
France shudders after London attack, Le Pen demands border controls https://t.co/cG4BzSUIWkpic.twitter.com/67NsAwIGft

— Reuters Top News (@Reuters) March 23, 2017