Thailandia: addio a "Bank", la tartaruga che aveva ingoiato quasi mille monetine
Commenti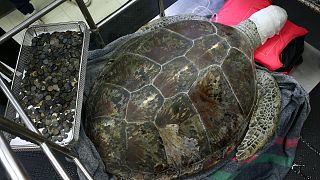 Era soprannominata Bank. Il suo caso ha commosso il mondo intero, scatenando anche polemiche da parte degli animalisti.
Thais shell-shocked as coin-swallowing "Piggy Bank" turtle dieshttps://t.co/h710FwTsPipic.twitter.com/tFNwpZBzSC

—

AFP

news agency (@AFP) 21 marzo 2017
Ora la famosa tartaruga marina di 25 anni, che aveva ingoiato quasi un migliaio di monetine lanciate dai turisti in cerca di buona fortuna, ci ha lasciato. Dopo giorni e giorni di sofferenze è morta in Thailandia, due settimane dopo l'operazione con cui i veterinari le avevano rimosso i soldi dallo stomaco. "Penso che abbia sofferto parecchio, in corpo aveva una quantità enorme di metalli tossici."ci spiega la Dottoressa Nantarika Chansue, il capo team che si è presa cura dell'animaletto.
Vets are trying to help Omsin after the turtle does not respond: Nantarika Chansue

Photo Nantarika Chansue Facebook pic.twitter.com/IWk0Z4ZUUS

— Bangkok Post (@BangkokPostNews) 20 marzo 2017
Secondo l'equipe medico-scientifica dell'Università di Chulalongkorn a causare il decesso sarebbe stato l'avvelenamento del sangue provocato dai circa cinque chilogrammi di metallo ingurgitato. "Vorrei che certe tradizioni cambiassero, bisogna smettere di usare gli animali per soddisfare i nostri desideri. Tutte le vite sono importanti allo stesso modo.", prosegue la Dottoressa Chansue.
La tartaruga Bank viveva in un laghetto pubblico nella provincia di Chonburi, a 175 chilometri ad est di Bangkok. Ormai era diventata un porta-fortuna, migliaia di turisti in visita nel Paese asiatico erano soliti recarsi nella piscina dove si trovava e lanciarle una monetina in segno di buon auspicio.
Sea Turtle nicknamed 'Piggy Bank' dies from blood poisoning after operation to remove 915 coins from her stomach https://t.co/27YQJCjPOSpic.twitter.com/TwQqCqLOXS

— Daily Mail Online (@MailOnline) 21 marzo 2017