Addio a David Rockefeller, aveva 101 anni. Fondò Bilderberg
Commenti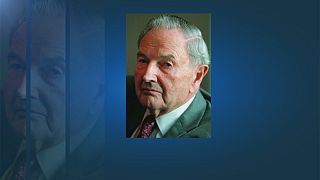 Scompare all'età di 101 anni David Rockefeller, il patriarca della potente famiglia americana, filantropo e banchiere internazionale.
Era l'ultimo nipote ancora in vita di John Rockefeller, il fondatore della Standard Oil. Il miliardario è deceduto per insufficienza cardiaca nel sonno. Nel corso della sua lunga vita, David Rockefeller è stato il numero uno della Chase Manhattan Bank, l'istituto che poi ha dato vita a JPMorgan Chase.
…continue the good fight.

— David Rockefeller (@DavidRockefeler) March 20, 2017
Le sue potenti amicizie con il mondo del commercio petrolifero lo hanno portato a fare affari con il Medioriente, Chase fu la prima banca a riaprire nel 1974 in Egitto dopo la crisi di Suez del 1956. Fra le tante storie che lo hanno riguardato anche i rapporti della banca con il regime suprematista bianco del Sud Africa dell'Apartheid o l'aver aiutato nel 1979 il deposto Scià di Persia a raggiungere New York per curarsi, evento che scatenò il sequestro dei dipendenti dell'ambasciata americana a Teheran.
David Rockefeller, the billionaire businessman and philanthropist, has passed away at 101 years old: https://t.co/9txeAewt5Vpic.twitter.com/MVcwWMCNlN

— Good Morning America (@GMA) March 20, 2017
Non dimentichiamo poi che Rockefeller fu l'ideatore degli incontri del gruppo Bilderberg e il fondatore della Trilaterale, nel 1973, con l'obiettivo di spingere l'economia verso la globalizzazione. A differenza dei suoi fratelli, che si dedicarono anche alla politica, lui fu un autentico uomo d'affari, in pieno stile Wall Street. Era appena stato inserito da Forbes nella classifica degli uomini più ricchi del mondo, con un capitale di 3,3 miliardi di dollari. Tra le ultime donazioni importanti, nel 2008, 100 milioni di dollari all'università di Harvard.
Its the first day of Spring and David Rockefeller is dead, time to break out the champagne.

— Daisy (@lameartgirl) March 20, 2017