L'Oscar anche al documentario sugli Elmetti bianchi della Siria
Commenti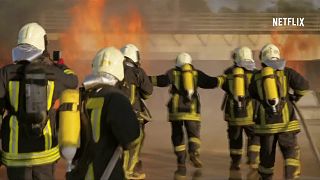 Le macerie delle case bombardate in Siria si mescolano alle paillettes degli Oscar. Il documentario sugli Elmetti bianchi ha vinto il premio per il miglior cortometraggio documentario. Autori: Orlando von Einsiedel e Joanna Natasegara.
Dalla Siria, il fondatore della Ong Difesa civile sirianaRaed Saleh ha commentato:
In nome degli Elmetti bianchi che operano in Siria, ringrazio per questo grande riconoscimento. È un importante sostegno morale per tutti i nostri volontari che continuano ad essere impegnati nel salvataggio dei civili in Siria.
Il direttore della fotografia, il siriano Khaled Khateeb , non è potuto andare a Los Angeles, è stato bloccato a Istanbul, le autorità americane non lo hanno autorizzato a imbarcarsi sul volo per gli Stati uniti.
Donald Trump's Muslim ban will prevent the Syrian subjects of doc 'White Helmets' from attending the Oscars https://t.co/ZJbOBuJWMt

— The Independent (@Independent) 30 gennaio 2017
L'organizzazione non ha solo sostenitori, c'è chi l'accusa di avere legami con l'estremismo islamico armato. In particolare di essere implicata nella cosiddetta 'crisi dell'acqua' ossia il danneggiamento del principale acquedotto di Damasco, che ha lasciato a secco per settimane la popolazione della capitale siriana.
Gli elmetti bianchi candidati all'Oscar. Chi sono veramente?https://t.co/jkAw4TZgNQ

— Daniele Carrera (@_DCarrera) 27 gennaio 2017