Va ai New England Patriots il Superbowl degli spot milionari.
Commenti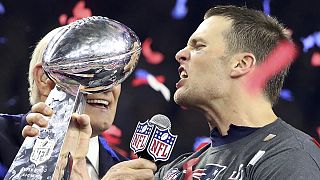 A metà tra sport e politica. Era attesissimo questo primo Superbowl dell'era Trump tra i New England Patriot e gli Atlanta Falcons e la squadra di cui il neo presidente è anche tifoso non ha deluso le sue aspettative. I Patrioti si sono aggiudicati la 51esima edizione dell'evento sportivo piu' seguito e costoso al mondo con gli spot da 5 milioni di dollari. Lo hanno fatto in rimonta dopo essere stati sotto di 25 punti e imponendosi alla fine per 34 a 28 guidati da Tom Brady, da oggi il quarterback piu' vincente della storia del football americano.
IL TWEET DI DONALDTRUMP
Enjoy the #SuperBowl and then we continue: MAKEAMERICAGREATAGAIN!

— Donald J. Trump (@realDonaldTrump) 5 febbraio 2017
Partita splendida sul campo, a due volti nel contorno. Fin troppo piatta l'esecuzione dell'inno nazionale da parte del cantante country Luke Bryan. Inneggiante alle donne "America The Beautiful" intonata dalle Schulyer Sister che hanno strappato l'applauso sostituendo la parola fratellanza con sorellanza. Spettacolare, come sempre, Lady Gaga della cui performance con messaggi non proprio subliminali su omosessualità e di protesta, non sarà stato felicissimo il Presidente che ha assistito al match nel suo resort in Florida dove ha organizzato un "Superbowl Party". Spettacolo nello spettacolo. In perfetto stile Trump.
IL TWEET DI DONALDTRUMP
What an amazing comeback and win by the Patriots. Tom Brady, Bob Kraft and Coach B are total winners. Wow!

— Donald J. Trump (@realDonaldTrump) 6 febbraio 2017