Cisgiordania: l'esercito sgombera Amona, scontri con i manifestanti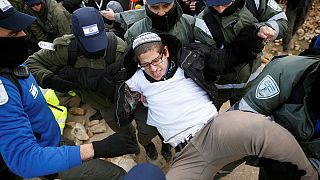 La polizia israeliana ha diffuso il bilancio ufficiale. Ad Amona, in Cisgiordania,sono stati feriti 10 agenti nei tafferugli con i manifestanti che si stavano opponendo allo sgombero di questo avamposto illegale costruito su terre private palestinesi e deciso con un provvedimento della Corte Suprema a Gerusalemme.
IL TWEETDELLACNN
Israel ramps up its settlement program, announces thousands of new units in disputed areas of the West Bank. https://t.co/72jS92VHnxpic.twitter.com/PieYwD986P

—

CNN

Breaking News (@cnnbrk) 1 febbraio 2017
"Pensate ai vostri bambini, ai vostri fratelli alle vostre donne. Vi prego non lo fate, non siete dei robot". Questo il grido degli abitanti di Amona. L'esercito israeliano aveva concesso 48 ore di tempo ai coloni ebrei per lasciare Amona dichiarata, nel frattempo, zona militare chiusa, ma in nottata sono affluiti sul posto centinaia di giovani per aiutare i residenti, in tutto circa 40 famiglie, nel resistere all'ordine di evacuazione. La Corte Suprema aveva raggiunto un accordo per ricollocare altrove le famiglie, ma i terreni devono ancora essere individuati e i residenti spiegano la lopro protesta: "Avevamo concordato in anticipo che nessuno avrebbe attaccato la polizia, che nessuno avrebbe spinto. Vi chiedo di non usare la violenza se avete intenzione di mandarmi via da casa mia. Perchè questa è casa mia".
LA STORIANEITWEETDELQUOTIDIANOISRAELIANO "HAARETZ"
Israeli MKs protest decision to cut short debate of bill to seize Palestinian land for settlements https://t.co/cT96yrXC1r

— Haaretz.com (@haaretzcom) 1 febbraio 2017
L'esercito israeliano intanto circonda il perimetro esterno del villaggio. Sono 3.000 i soldati coinvolti nell'operazione contro i 2000 della resistenza. Nel frattempo il premier Netanyahu ha annunciato la
costruzione di circa 3.000 case in quella zona, come per voler alleggerire la situazione ad Amona.