Trump contro Teheran: dopo legge antimusulmana americani non possono entrare in Iran
Commenti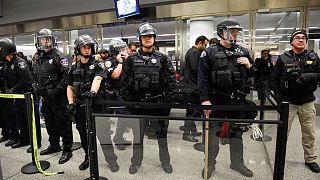 Gli americani non possono entrare in Iran. In diplomazia questo si definisce principio di reciprocità e Teheran ha deciso di utilizzarlo dopoché la nuova amministrazione statunitense ha deciso di vietare l'ingresso in America dei cittadini provenienti o detentori di documenti di sette paesi musulmani fra cui l'Iran.
La tensione è iniziata con una guerra di tweet ed è continuata con le dichiarazioni al parlamento iraniano.
While respecting Americans & differentiating between them &hostile U.S. policies, Iran will take reciprocal measures to protect citizens.5/7

— Javad Zarif (@JZarif) January 28, 2017
Cosi il presidente dell'assemblea: "Le restrizioni dell'amministrazione americana mostrano che a Washington hanno paura della propria ombra. Dimostrano anche un razzismo nascosto dietro misure demagiche".
Misure che hanno però gettato nel caos molti aeroporti dove tanti viaggiatori sono bloccati a causa delle nuove disposizioni.
A New York molti avvocati si sono offerti gratuitamente di rappresentare le persone fermate alla frontiera.
LITERALLY on the ground. Volunteer lawyers are working pro-bono on a Saturday preparing habeus corpus petitions for detainees at JFK. pic.twitter.com/ddUeQBi7AY

—

NYC

Mayor's Office (@NYCMayorsOffice) January 28, 2017
Persino i tassisti di New York hanno deciso di scioperare contro queste misure. Uber ha cercato di approfittarne offrendo corse a prezzi ridotti e migliaia di persone hanno preferito disiscriversi dal sito di prenotazioni accusato di voler approfittare di una sacrosanta protesta.
Goodbye, Uber</a>. It's not me…it's you. <a href="https://twitter.com/hashtag/DeleteUber?src=hash">#DeleteUber</a> <a href="https://t.co/D9zKHDs6dn">pic.twitter.com/D9zKHDs6dn</a></p>&mdash; Eric Haywood (EricHaywood) January 29, 2017