Cinema: "La la Land" in testa alle nomination dei Bafta
Commenti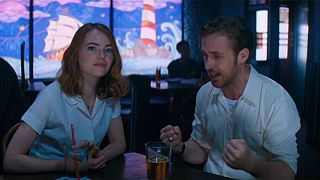 "La La Land", la commedia musicale vincitrice di sette premi Golden Globe negli Stati Uniti, predomina anche nelle momination dei britannici Bafta.
La pellicola statunitense di Damien Chazelle concorrerà in undici categorie fra le quali miglior film, migliore attrice con Emma Stone e migliore attore con Ryan Gosling.
See the full list of nominations for this year's #EEBAFTAs here: https://t.co/E63qsJrxijpic.twitter.com/nHsJrIDQ6X

—

BAFTA

(@BAFTA) 10 gennaio 2017
Fra i suoi principali contendenti c'è "Animali notturni" dello stilista Tom Ford, Gran premio della giuria al Festival del cinema di Venezia. Il thriller con protagonisti Jake Gyllenhaal e Amy Adams ha ottenuto 9 nominations.
Nove anche per un'altra pellicola statunitense, "Arrival", di Denis Villeneuve, candidata fra l'altro nelle categorie miglior film, miglior regista, miglior sceneggiatura non originale.
Sei nomination per "Manchester by the sea" di Kenneth Lonergan, con Casey Affleck, premiato con il Globo d'oro di miglior attore domenica.
I Bafta, che saranno assegnati il 12 febbraio, potrebbero far presagire chi vincerà gli Oscar due settimane dopo. Ma l'anno scorso i primi premiarono come miglior film "Revenant", i secondi invece "Il caso spotlight".
Candidato in 5 categorie, fra le quali miglior film anche il britannico "Io, Daniel Blake", di Ken Loach, Palma d'Oro a Cannes 2016.
Go! I, Daniel Blake – Our film picked up five nominations for the 2017 BAFTA</a> awardsidanielblake https://t.co/hILURcMRiC#BAFTA2017

— Ken Loach (@KenLoachSixteen) 10 gennaio 2017
Best Film: Arrival, Manchester by the Sea, La La Land, I, Daniel Blake and Moonlight https://t.co/GF2IWjWe10#EEBAFTAspic.twitter.com/oyODajimNp

—

BAFTA

(@BAFTA) 10 gennaio 2017