Natale ortodosso, il Patriarca Cirillo I: "Preghiamo per superare le crisi"
Commenti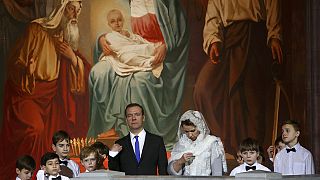 A tredici giorni da quello cattolico, ci celebra il Natale ortodosso. Lo scarto temporale è dovuto all'adozione del calendario giuliano da parte del patriarcato di Mosca, Serbia, Ucraina, Bielorussia, Georgia, Macedonia e Montenegro.
Merry Orthodox Christmas! https://t.co/geHrPgPZRapic.twitter.com/DSpmuu0ToZ

— Dmitry Medvedev (@MedvedevRussiaE) 6 gennaio 2017
Su Twitter gli auguri del Primo ministro russo Dmitri Medvedev, che ha partecipato alla funzione di Natale alla Cattedrale di Cristo il Salvatore a Mosca
In Russia il Primo ministro Dmitri Medvedev ha partecipato alla funzione officiata nella cattedrale moscovita di Cristo il Salvatore dal Patriarca di Mosca e di tutte le Russie Cirillo I. "Preghiamo – ha detto quest'ultimo -, affinché Dio guidi ciascuno di noi lungo il cammino della vita e ci permetta di superare difficoltà, sofferenze e crisi del mondo di oggi".
Vladimir Putin congratulated Orthodox Christians with Christmas https://t.co/ULMlCNsRh5pic.twitter.com/E5JfiF3ipA#news#Russia

— Rus to En Fr Es News (@Rus_Eng_News) 7 gennaio 2017
È invece in un monastero alle porte di Velikij Novgorod, a oltre 500 chilometri da Mosca, che il Presidente Putin si è mostrato alle telecamere tra fedeli e pescatori locali. Vietate in seguito alla rivoluzione del 1917, le celebrazioni del Natale Ortodosso sono state ripristinate in Russia in seguito alla caduta dell'Unione Sovietica.