Usa: controversa proposta dei repubblicani sull'etica, Trump li rimprovera
Commenti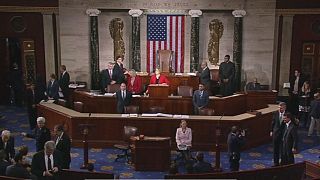 L'insediamento del nuovo Congresso statunitense, martedì, è stato offuscato da una polemica che ha riguardato i repubblicani.
Il giorno prima, festivo, il gruppo di deputati del Grand Old Party alla Camera aveva votato, a porte chiuse, a favore della restrizione dei poteri dell'ufficio etico, un organismo indipendente che indaga su eventuali casi di corruzione e altre violazioni commesse dai parlamentari.
Una mossa che ha suscitato scandalo spingendo i repubblicani a fare marcia indietro. A far pressione il presidente-eletto Donald Trump via Twitter.
"Con tutto quello che occorre fare, devono davvero dare priorità all'indebolimento dell'organismo indipendente sull'etica? Concentratevi sulla riforma fiscale, sulla Sanità, e su altre cose molto più importanti".
With all that Congress has to work on, do they really have to make the weakening of the Independent Ethics Watchdog, as unfair as it

— Donald J. Trump (@realDonaldTrump) 3 janvier 2017
……..may be, their number one act and priority. Focus on tax reform, healthcare and so many other things of far greater importance! #DTS

— Donald J. Trump (@realDonaldTrump) 3 janvier 2017
Trump ha anche ribadito i propri dubbi sulle accuse di ingerenza nelle elezioni rivolte dai servizi segreti statunitensi alla Russia. Il briefing dell'intelligence con il presidente eletto è stato rimandato a venerdì.
"Forse è necessario più tempo per montare un caso, che strano", ha commentato Trump.
The "Intelligence" briefing on so-called "Russian hacking" was delayed until Friday, perhaps more time needed to build a case. Very strange!

— Donald J. Trump (@realDonaldTrump) 4 janvier 2017
Il miliardario, che finora ha concesso poche interviste, ha annunciato la sua prima conferenza stampa da presidente-eletto per l'11 gennaio. In particolare Trump dovrebbe precisare come eviterà conflitti di interesse essendo proprietario di un impero immobiliare.