Colera ad Haiti, scuse di Ban Ki-moon: "L'ONU non ha fatto abbastanza"
Commenti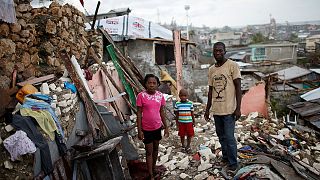 Scuse sì, assunzione di responsabilità no. Pur riconoscendo che l'ONU non ha fatto abbastanza per contrastare l'epidemia di colera che ad Haiti ha provocato oltre 9.000 morti, il suo segretario generale Ban Ki-moon non si è spinto fino ad imputarla alle Nazioni Unite.
Ban: UN deeply regrets loss of life & suffering caused by cholera outbreak in Haiti. We did not do enough abt the outbreak & its spread.1/1

— UN Spokesperson (@UN_Spokesperson) 1 dicembre 2016
Numerosi esperti indipendenti sostengono che a introdurre il colera sull'isola siano stati dei caschi blu della Minustah, la Missione Onu ad Haiti, sversando in un fiume i loro rifiuti. Accuse a cui il Palazzo di vetro ha finora sempre risposto invocando l'immunità diplomatica delle sua missioni.