Scacchi, Campionato del mondo: rush finale per Carlsen e Karjakin
Commenti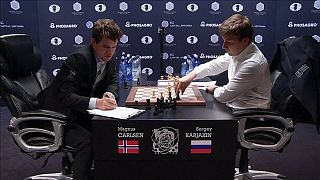 Mai dare per morto un campione. Lo sa bene Sergey Karjakin, che ha solo accarezzato la possibilità di conquistare il Campionato del mondo di scacchi.
In vantaggio di un punto nella finale in corso a New York, il russo ha perso gara 10 per 1-0, riemettendo in corsa il campione in carica, il norvegese Magnus Carlsen. Il punteggio, con ancora due partite da giocare, è ora sul 5 pari.
Magnus Carlsen has tied the World Championship match after winning Game 10. The official game report. https://t.co/WUXTDlm9tm

— World Chess (@theworldchess) 25 novembre 2016
In palio, oltre al titolo mondiale, c'è anche un lauto assegno per il vincitore di un milione di euro. La serie è incredibilmente equilibrata, se è vero che le prime 7 sfide sono terminate in pareggio. In caso di parità dopo la 12esima partita, si giocherà un tie-break che spezzerà, finalmente, questo grande equilibrio.