Brexit: governo May farà ricorso contro sentenza che impone un voto del parlamento
Commenti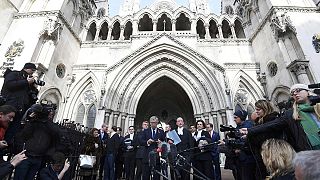 L'Alta Corte di Londra ha stabilito che il governo non può avviare l'iter per la Brexit senza un voto del parlamento.
Ma l'esecutivo annuncia già che farà appello davanti alla Corte Suprema per applicare quanto deciso dai cittadini con un referendum.
Il pronunciamento della giustizia è arrivato in risposta al ricorso di alcuni attivisti europeisti, tra cui Gina Miller.
"Questo risultato è di tutti noi" ha sottolineato Miller, "non è mio o del mio team, riguarda tutto il Regno Unito e il nostro futuro. Non riguarda il modo in cui ognuno ha votato. Ciascuno di noi ha votato per il miglior Paese e il miglior futuro possibili. Questo caso riguardava le procedure e non la politica".
La sentenza è un duro colpo per il governo di Theresa May, che rivendica il diritto d'invocare autonomamente l'articolo 50 del Trattato di Lisbona e che ha più volte ripetuto che la Brexit non si discute.
Il leader dello Ukip Nigel Farage tuona: "Il verdetto dell'Alta Corte scatenerà la rabbia della gente".
I now fear every attempt will be made to block or delay triggering Article 50. They have no idea level of public anger they will provoke.

— Nigel Farage (@Nigel_Farage) 3 November 2016
Il capo dei laburisti Jeremy Corbyn chiede al governo di presentare subito al parlamento i termini del negoziato sulla Brexit.
Se anche la Corte Suprema stabilirà che è necessario un passaggio in aula, il parlamento potrebbe bloccare l'uscita del Paese dall'Unione europea.