Islanda: le urne premieranno i partiti anti-sistema?
Commenti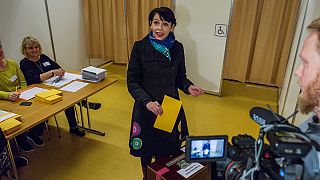 In Islanda hanno sfidato venti gelidi e pioggia i cittadini che si sono recati alle urne per le elezioni politiche anticipate.
Ma il brutto tempo è un dettaglio minore in un paese che sembra pronto a voltare pagina, dopo un governo di centro destra.
In crescita nei sondaggi al 20% i Pirati, formazione anti-sistema, che potrebbe puntare a una coalizione con altri 3 partiti, tra cui i Verdi.
"Non abbiamo intenzione di temporeggiare – dice la leader dei Pirati, Birgitta Jonsdottir – Vogliamo soltanto portare l'Islanda nel 21° secolo. E lo facciamo con il coraggio di realizzare una politica diversa".
#Iceland#Vote to be a #Pirate \0/#Pirates support free culture and free software. pic.twitter.com/VeQ6NJBTA1

— ☆ Anonymous (@h0t_p0ppy) 29 septembre 2016
Nella ventata di novità si cerca di inserire anche il Partito Liberale, riformista e filo-europeista.
"È importante questo voto – sottolinea Benedikt Johannesson, candidato Vidreisn – perché la società islandese è stata passiva per troppo tempo. Ora devono essere applicate le riforme che i cittadini chiedono. E noi le abbiamo nel nostro programma".
Nella campagna elettorale è emersa l'indignazione per il sistema su cui si basa la politica tradizionale.
"Voglio che sparisca la corruzione – dice una cittadina – Pretendo che il sistema funzioni, in modo trasparente che le persone possano avere accesso a tutte le informazioni".
Il voto arriva dopo lo scandalo dei Panama Papers che ha travolto il primo ministro islandese Gunnlaugsson. Ora gli elettori potrebbero decidere di premiare gli "outsider".