Moldavia, presidenziali divise tra Mosca e UE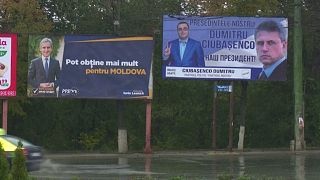 Le presidenziali in Moldavia dovrebero segnare lo scontro finale tra le due anime del Paese: quella che vuole un riavvicinamento a Mosca e quella che invece guarda all'Unione europea. Senza contare che dopo vent'anni sarà il popolo a decidere chi sarà il futuro Presidente, dopo la decisione presa lo scorso marzo dalla Corte costituzionale.
Grande favorito, al primo turno, è l'ex ministro dell'Economia Igor Dodon, il candidato del partito Socialista, attualmente all'opposizione in parlamento e dichiaratamente filorusso. II suo programma politico è chiaro: mantenere stretti rapporti con Mosca e invalidare la parte economica dell'accordo di associazione con l'Ue.
.Igor_Dodon</a>: .<a href="https://twitter.com/sandumaiamd">sandumaiamd, să fiți la birou! Venim să semnați angajamentul că nu veți colabora cu Plahotniuc https://t.co/80MzTeYXmJpic.twitter.com/Z7lyzc8tTC

— Moldova.org (@moldova_org) October 28, 2016
Seconda, sempre stando ai sondaggi, Maia Sandu del fronte opposto. La candidata del partito "Azione e solidarietà", che ha lavorato anche presso la Banca Mondiale, è consapevole che le autorità di Chisinau dovranno convincere i moldavi e i partner europei della loro sincerità prima di stabilire i prossimi passi del possibile accesso del Paese all'Ue.
The people of Moldova value democracy, and they will fight for it.

— Maia Sandu (@sandumaiamd) 24 gennaio 2016
Situata tra la Romania e l'Ucraina, la Moldavia è uno dei paesi più poveri d'Europa, con il 41% della popolazione che vive con meno di 5 euro al giorno. Queste elezioni intendono mettere fine alle proteste di piazza e all'instabilità politica dilagante nel Paese, non solo per la crisi, ma soprattutto per la misteriosa sparizione di 915 milioni di euro, l'equivalente del 10% del Pil moldavo, da tre banche lo scorso anno. Uno scandalo che ha offuscato la reputazione dei due precedenti governi. Benché Dodon sia dato per favorito, la sfiducia dei moldavi nell'intera classe politica potrebbe, però, riservare qualche sorpresa.