Trump renderà pubbliche le sue analisi mediche: "Mi sento benissimo"
Commenti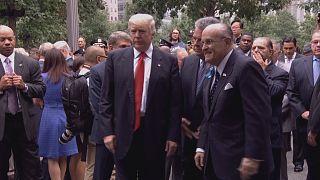 Il vento soffia a favore di Donald Trump che non si lascia sfuggire "l''enorme regalo", come lo definisce l'Economist, di trarre vantaggio dai problemi di salute di Hillary Clinton. "Spero che Clinton si rimetta presto e torni in pista", dice Trump al telefono con Fox News dove a sorpresa evita l'affondo. Il candidato repubblicano aggiunge di essersi sottoposto a una visita medica la settimana scorsa e promette di diffondere i risultati nei minimi dettagli. "Spero che siano buoni, sono convinto che saranno buoni, mi sento benissimo".
Trump, che in passato aveva insinuato gravi problemi di salute della Clinton, decide di attaccare la sua rivale su un altro terreno. Nel Maryland la sua ira è per le parole offensive usate da lei nei confronti dei suoi supporter definiti "un branco di miserabili".
"Non si può correre per la presidenza se si disprezza in modo tanto profondo l'elettore americano, come fa lei. Non si può guidare questa nazione, se si ha una così bassa opinione dei suoi cittadini", ha detto Trump.
While Hillary said horrible things about my supporters, and while many of her supporters will never vote for me, I still respect them all!

— Donald J. Trump (@realDonaldTrump) 10 settembre 2016
Il clima resta rovente. Davanti all'ultimo albergo di lusso di Donald Trump a Washington DC decine di persone si sono radunate in segno di protesta contro il piano dell'immigrazione del candidato repubblicano.