Tour de France: incredibile Froome, corre a piedi sul Mont Ventoux
Commenti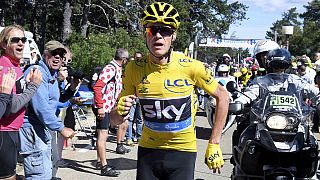 Chris Froome resta in maglia gialla, dopo la 12esima tappa del Tour de France, con arrivo sul mitico Mont Ventoux. Non scontato, visto cos'è successo a poco più di un chilometro dalla fine.
La moto della tv, che precedeva il gruppo dei big, frena bruscamente, probabilmente a causa dei troppi spettatori in mezzo a strada e viene tamponata da Richie Porte, Bauke Mollema e dal britannico del Team Sky. La bici di quest'ultimo si rompe e lui che fa? Si mette a correre a piedi, verso l'arrivo, aspettando la sua ammiraglia.
"You always have to expect the unexpected at the #TourdeFrance" – chrisfroome</a> <a href="https://t.co/3M93VdUlDB">https://t.co/3M93VdUlDB</a></p>&mdash; Team Sky (TeamSky) 14 luglio 2016
Dopo aver cambiato due bici, Froome riesce a giungere al traguardo, però con oltre un minuto di ritardo sugli avversari. Perde la maglia gialla, ma la direzione gara decide poi di accreditargli lo stesso tempo di Mollema, ripartito dopo l'incidente senza problemi.
Per la cronaca, a trionfare in quest'incredibile frazione è il belga della Lotto Soudal Thomas De Gendt.