Juno nell'orbita di Giove, per svelarne i segreti
Commenti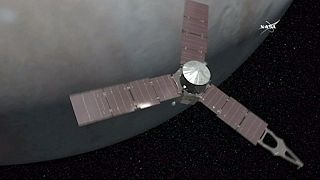 Mancavano pochi minuti alle 6, ora italiana, quando Juno è definitivamente entrata nell'orbita di Giove. Lo ha fatto dopo aver compiuto una frenata che ha fatto decelerare la sonda da circa 265.000 ad "appena" 210.000 km orari. Una manovra piena di pericoli
Dopo essere stata l'oggetto più veloce realizzato dall'uomo, ora si avvia a compiere la sua missione, fornendo un quadro esauriente del quinto pianeta del sistema solare, trovandosi ora a una distanza da esso alla quale mai si era giunti prima.
Ci vorrà ancora tanta pazienza, dopo 5 anni già passati dal suo lancio e 1,1 miliardi di dollari spesi: dovrà compiere 37 orbite complete, inizialmente in 53,4 giorni, per poi arrivare gradualmente a 14.
Engine burn complete and orbit obtained. I'm ready to unlock all your secrets, #Jupiter. Deal with it.

—

NASA

's Juno Mission (@NASAJuno) 5 luglio 2016
Se tutto andrà bene, nel febbraio 2018 avrà raccolto i suoi dati, che consentiranno magari di svelare qualche mistero, primo fra tutti quello dell'eventuale presenza di un nucleo solido, sotto gli strati gassosi.