Clinton vs Sanders: la parola agli ultimi sei Stati, a partire dalla California
Commenti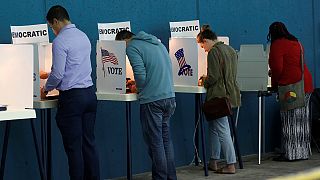 La Clinton è a un passo dall'investitura democratica. La parola finale la scriveranno gli ultimi sei stati a partire dalla California, che garantisce 546 delegati. Gli altri sono New Jersey, New Mexico, Montana Nord e Sud Dakota.
Eight years ago today. pic.twitter.com/ZAHXdKbgHV

— Hillary Clinton (@HillaryClinton) 7 giugno 2016
Ma per la stampa statunitense i giochi sono già fatti: Hillary Clinton è la candidata democratica alla Casa Bianca, avrebbe i 2.383 delegati che servono per ottenere la nomination. Ma il suo collega di partito Bernie Sanders non si dà per vinto bollando come "affrettato" il calcolo.
California, Montana, New Jersey, New Mexico, South Dakota and North Dakota – your turn to vote for the revolution! pic.twitter.com/cyqk7tRNxR

— Bernie Sanders (@BernieSanders) 7 giugno 2016
Sfortunatamente i media, presi dalla fretta, ignorano che è sbagliato contare i voti dei super-delegati prima che votino di fatto nella convention di luglio" ha risposto attraverso il suo portavoce Michael Brigg.