Pacco sospetto a Old Trafford: artificieri effettuano esplosione controllata
Commenti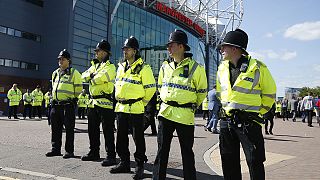 Il ritrovamento di un pacco sospetto fra gli spalti dell'Old Trafford di Manchester ha provocato la cancellazione del match fra i Red Devils e il Bournemouth, durante l'ultima giornata di Premier League.
Gli artificieri hanno effettuato l'esplosione controllata del pacco.
Due to the discovery of a suspect package in the NW Quadrant of the ground, the match has been abandoned today on police advice. #mufc

— Manchester United (@ManUtd) May 15, 2016
Inizialmente erano stati evacuati due settori, il Sir Alex Ferguson e lo Stretford End, poco prima dell'inizio del match, ritardato di 45 minuti, Infine è stata presa la decisione di rinviare l'incontro ad altra data.
Following the abandonment of #MUNBOU, the Premier League has issued the following statement… pic.twitter.com/ra4zOaWIwr

— Premier League (@premierleague) 15 mai 2016