ATP Houston: derby a stelle strisce in semifinale fra Isner e Sock
Commenti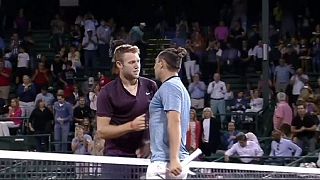 John Isner vola in semifinale al torneo ATP di Houston, uno dei primi della stagione sulla terra battuta. Lo statunitense, testa di serie numero 1 del tabellone, si è liberato a fatica di Hyeon Chung, 19enne dalle belle speranze, non a caso nominato lo scorso anno giocatore piu' migliorato della stagione.
Top two Americans, JohnIsner</a> & <a href="https://twitter.com/JackSock">JackSock, to clash for place in mensclaycourt</a> final. <a href="https://t.co/JajsbgM7vf">https://t.co/JajsbgM7vf</a> <a href="https://twitter.com/hashtag/ATP?src=hash">#ATP</a> <a href="https://t.co/YIYGzIiXF4">pic.twitter.com/YIYGzIiXF4</a></p>&mdash; ATP World Tour (ATPWorldTour) 9 aprile 2016
7-6, 6-4 i parziali, in poco piu' di un'ora e mezza, per Isner, a caccia del suo secondo titolo in Texas dopo quello conquistato nel 2013.
Defending champ Jack Sock scores his 7th straight match-win at the #USClay, d. Marcos Baghdatis 6-4 6-4. pic.twitter.com/yCyeggaTse

— US Men's Clay Court (@mensclaycourt) 9 aprile 2016
In semifinale, sarà un derby statunitense contro Jack Sock, che ha battuto con un doppio 6-4 Marcos Baghdatis. L'americano allunga cosi' a 14 la striscia vincente a Houston, di cui detiene il titolo. Nell'altra semifinale si incontreranno l'argentino Juan Monaco e lo spagnolo Feliciano Lopez.