Usa: repubblicano Trump annulla comizio di Chicago per motivi di sicurezza
Commenti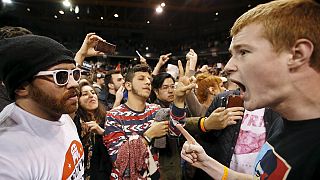 Donald Trump annulla per motivi di sicurezza il comizio di venerdì a Chicago dove si erano riuniti manifestanti contrari al miliardario.
Gli anti-Trump, in gran parte neri e ispanici, erano riusciti a entrare nel centro sportivo dell'Università dell'Illinois dove era prevista la riunione. Dopo la decisione di annullarla, sono scoppiati alterchi fra i dimostranti e i sostenitori dell'aspirante candidato repubblicano per la presidenza degli Stati Uniti.
I manifestanti agitavano cartelli come "Trump = odio" e "Trump buffone". Scene ormai abituali durante i meeting di Trump che aveva incitato i propri sostenitori a "picchiare" i contestatori promettendo di pagare loro le spese legali.
#TrumpRally protesters chant "We gonna be alright" after announcement of a Trump no-show. pic.twitter.com/FXce08oWzI

— Chicago Reader (@Chicago_Reader) 12 mars 2016
Tensione anche all'esterno del campus, mentre qualche ora prima il comizio di Trump a St. Louis, nel Missouri, era stato interrotto diverse volte e la polizia aveva arrestato 32 persone.
#blacklivesmatter protest erupts outside UIC pavilion on Racine and Van Buren. #TrumpRallypic.twitter.com/iFzob29Sgb

— Chicago Reader (@Chicago_Reader) 12 mars 2016
This man bloodied, then cuffed, outside a protest-filled Donald Trump rally in St. Louis https://t.co/jjOpdNZGH5pic.twitter.com/EvBxDVuvke

— Sasha Goldstein (@NYCitySasha) 11 mars 2016
Venerdì l'uomo d'affari ha ricevuto l'endorsement dell'ex rivale Ben Carson, ha affermato che non sono necessari altri dibattiti fra repubblicani e ha esortato il partito a mostrarsi unito sulla sua candidatura.
Martedì prossimo in occasione delle primarie in Florida, Ohio, Illinois, North Carolina e Missouri potrebbe assicurarsi il numero di delegati necessario alla nomination.