Arte: un Rembrandt ritrovato sarà esposto al TEFAF di Maastricht
Commenti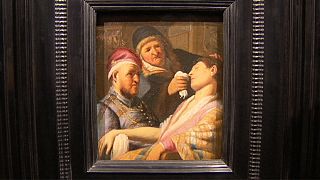 Rembrandt sbarca al TEFAF, la fiera d'arte che apre venerdì a Maastricht, nei Paesi Bassi.
Il suo dipinto 'Il paziente incosciente', realizzato dal pittore olandese durante gli anni della giovinezza, si credeva perduto ma è
stato ritrovato e proprio a Maastricht verrà esposto per la prima volta. La tela rappresenta l'olfatto e fa parte di una serie di cinque quadri dedicati ai sensi.
#ArtHistoryToday#TEFAF2016#Rembrandt was our special delivery last Monday! Be sure to take a peek and visit TEFAF! pic.twitter.com/dIJQX8JKwi

—

TEFAF

Maastricht (@TEFAF) 9 Marzo 2016
Il quadro era nelle mani di un privato statunitense che, ignaro del suo valore, lo scorso anno l'ha venduto alla galleria d'arte parigina Talabardon & Gautier per 'soltanto' un milione di dollari (poco più di 900.000 euro).
Dopo l'acquisto la galleria ha sottoposto la tela di 21,6 per 17,8 centimentri a perizia e i tecnici hanno scoperto in un angolo la firma del giovane Rembrandt 'RHF', ossia l'abbreviazione di 'Rembrandt Harmenz fecit'.
Il dipinto è già stato venduto a The Leiden Collection, collezione privata di New York proprietaria di due altri quadri della stessa serie: il tatto e l'udito. La vista invece appartiene a un museo olandese. All'appello manca 'il gusto', finora mai ritrovato.