L'endorsment moderato per Donald Trump
Commenti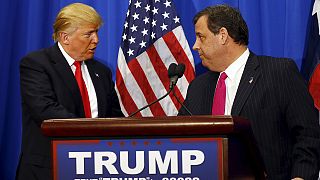 Un primo, pesante endorsment arriva dall'interno del Partito repubblicano, avvicinando Donald Trump alla candidatura alla Casa Bianca, è quello del governatore del New Jersey, Chris Christie.
Thank you for your support &
friendship- Governor ChrisChristie</a>!<a href="https://twitter.com/hashtag/MakeAmericaGreatAgain?src=hash">#MakeAmericaGreatAgain</a> <a href="https://twitter.com/hashtag/Trump2016?src=hash">#Trump2016</a> <a href="https://t.co/jVI6Q6JH18">pic.twitter.com/jVI6Q6JH18</a></p>&mdash; Donald J. Trump (realDonaldTrump) 26 febbraio 2016
Che ha già scelto anche l'avversario.
"Ciò che conta di più per il Partito repubblicano – ha affermato – è nominare una persona che ci dia le maggiori chance di battere Hillary Clinton. Posso garantirvi che se c'è qualcuno che Hillary e Bill Clinton non vogliono vedere su questo palco a settembre è Donald Trump".
L'endorsment di un esponente moderato del partito non cambia il consueto atteggiamento sopra le righe del miliardario. Che prende in giro Rubio dicendo "mai visto qualcuno sudare così".
Never let them see you sweat! pic.twitter.com/qygVFf6JFF

— Donald J. Trump (@realDonaldTrump) 26 febbraio 2016
Il senatore della Florida ricambia con la stessa moneta, facendosi gioco della sgrammaticatezza dei tweet di Trump.
Trump: An "honer" to win GOP debate, Marco Rubio a "chocker" https://t.co/H4kXS5MeHspic.twitter.com/jrQ9NxgQI4

—

POLITICO

(@politico) 26. Februar 2016
Trump's CHOCKER Tweets were sent using an Android – look what he's using now! pic.twitter.com/Ui9VNv6cNM

— Charlie Spiering (@charliespiering) 26. Februar 2016
Anche se il più memorabile, almeno finora, resta quello in cui invitava a boicottare la Apple, dal suo iPhone.
Boycott all Apple products until such time as Apple gives cellphone info to authorities regarding radical Islamic terrorist couple from Cal

— Donald J. Trump (@realDonaldTrump) 19 febbraio 2016
L'endorsment di Christie non è, comunque, di certo una buona notizia per Rubio, considerato il candidato moderato dei repubblicani e quello maggiormente gradito al partito. In vista del Supermartedì (quando si voterà in 13 Stati), nel quale dovrebbe cercare di recuperare posizioni. Al momento gli sono stati assegnati solo 16 delegati, contro i 17 di Ted Cruz e, soprattutto, i 71 di Trump.