G20: la Brexit tiene banco. Mentre la Germania si oppone a eventuali stimoli economici
Commenti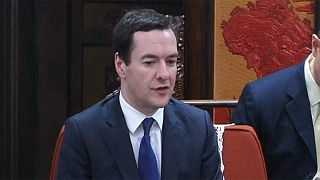 Alla cerimonia ufficiale per l'apertura del G20 di Shanghai, l'invitato d'onore sembrava essere la Brexit. I ministri delle Finanze e i presidenti delle banche centrali dei 20 Paesi più ricchi al mondo hanno offerto il loro sostegno al Cancelliere dello Scacchiere britannico George Osborne.
With risks facing global economy most heightened since crash, now would be worst time for UK to take gamble of EU exit

— George Osborne (@George_Osborne) 26 février 2016
La Cina, Paese ospite, ha auspicato che il Regno Unito resti all'interno dell'Unione.
"Siamo sempre favorevoli – ha dichiarato il portavoce del ministero degli Esteri – al processo di integrazione europeo e vogliamo che l'Unione europea abbia un ruolo ancora più importante sulla scena internazionale. Speriamo che Regno Unito e Unione europea gestiscano in modo appropriato la questione".
Arrivata a Shanghai per chiedere un piano di rilancio mondiale, anche Christine Lagarde, direttrice del Fondo Monetario Internazionale ha voluto esprimersi su un'eventuale Brexit: "Poiché non è chiaro quali siano i termini in base ai quali il Regno Unito uscirebbe dall'Unione europea, è difficile valutarne le conseguenze. Ma molto probabilmente nuocerebbe alla fluidità degli scambi. Siamo inclini a concludere, pur non avendo ancora realizzaro uno studio di fattibilità completo, che le conseguenze di una Brexit sarebbero negative".
#G20 needs to take bold action to rejuvenate global growth. Read IMF G20 note. https://t.co/MqmX8KcXiz

—

IMF

(@IMFNews) 24 February 2016
La Germania intanto ha già ribadito il proprio no a un piano di stimoli fiscali da parte del G20. Per il ministro delle Finanze tedesco Wolfgang Shaeuble la crescita economica deve derivare soltanto da riforme strutturali.