Fifa, Beckenbauer multato per "mancata collaborazione"
Commenti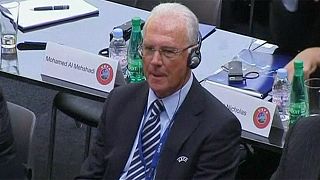 Prosegue il momento delicato per gli ex fenomeni del calcio mondiale. Dopo Michel Platini, anche Franz Beckenbauer è finito nel mirino della Fifa. L'ex capitano della Nazionale tedesca è stato multato di 7mila franchi svizzeri per non aver collaborato alle indagini per la vicenda legata all'assegnazione dei Mondiali del 2018 e del 2022 a Russia e Qatar.
Statement from the adjudicatory chamber of the independent Ethics Committee – https://t.co/0KbrhFDrFM

—

FIFA

Media (@fifamedia) 17 febbraio 2016
Questa sanzione non ha niente a che vedere con le indagini sulla presunta corruzione evidenziata durante l'assegnazione dei Mondiali 2006 alla Germania. Beckenbauer, di quell'edizione, era il presidente del Comitato organizzatore.