Liverpool, Klopp si presenta: "Sono il Normal One"
Commenti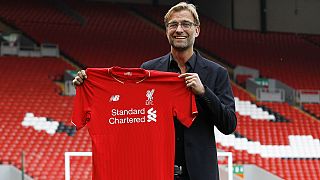 E' cominciata ufficialmente l'avventura di Jurgen Klopp con il Liverpool. Il nuovo allenatore è stato presentato ad Anfield in una sala stampa gremita. Inevitabili, viste le grandi aspettative riposte dai tifosi nel tecnico tedesco, i paragoni con José Mourinho. Klopp però prende subito le distanze dallo Special One.
"A chi crede che io possa fare miracoli chiedo di lasciarmi lavorare – ha detto Klopp -. Sono una persona normale che viene dalla Foresta Nera. Mia madre in questo momento sarà seduta davanti alla televisione a guardarmi. Non ci ho ancora parlato ma penso sia orgogliosa di me. Sono una persona totalmente normale. Sono il Normal One, se è questo che volete sentirmi dire".
Have you seen Jürgen Klopp's message to #LFC fans?
#TheNormalOne#KloppLFC
http://t.co/0YnXR3e2lp
https://t.co/wO2MfXknh3

— Liverpool FC (@LFC) 9 Ottobre 2015
"Non sono qui perché Liverpool è simile a Dortmund – ha sottolineato il tecnico tedesco -. Sono qui perché il Liverpool è un club meraviglioso e non vedo l'ora di cominciare ad allenare la squadra. Cercavano un allenatore e mi hanno voluto fortemente: è questa la ragione principale per cui sono qui".
L'obiettivo, ha aggiunto Klopp, è quello di vincere la Premier nel giro di quattro anni. Per riuscirci l'ex allenatore del Borussia ha firmato un contratto triennale con opzione per il quarto anno da sette milioni di euro a stagione.
Welcome to the Liverpool family. YNWA Mr. Klopp!! pic.twitter.com/TkWcVHU3ye

— Xabi Alonso (@XabiAlonso) 9 Ottobre 2015