Volvo Ocean Race: vince Abu Dhabi Ocean Racing
Commenti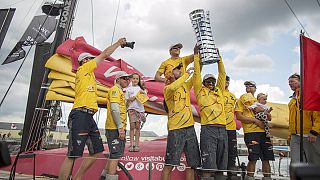 La 12esima edizione della Volvo Ocean Race finisce appannaggio di Abu Dhabi Ocean Racing.
Nelle acque di Goteborg, in Svezia, l'equipaggio trionfa pur chiudendo al quinto posto: un successo che arriva dopo aver percorso quasi 39 mila miglia nautiche in 9 mesi.
Abu Dhabi Ocean Racing, winners of the Volvo Ocean Race 2014-15, lifting the trophy at the dock in Gothenburg! Photo by Victor Fraile / Volvo Ocean Race

Posted by Volvo Ocean Race on Lunedì 22 giugno 2015
"Certo, la gara è dura – afferma Ian Walker, skipper di Abu Dhabi -, tutto è difficile, fare soldi è difficile, attuare progetti insieme, tenere insieme la squadra, vivi la corsa, il freddo, il caldo, i forti venti, quelli leggeri, il che è ciò che rende la Volvo Ocean Race uno degli eventi sportivi più lunghi ed incredibili da fare. Siamo orgogliosi".
Dopo 4 giorni, 9 ore e 53 secondi di navigazione, Alvimedica si aggiudica invece la nona e ultima tappa della regata, da Lorient a Goteborg.
A bordo l'unico italiano in gara, il friulano Alberto Bolzan, che diventa il primo velista nostrano a vincere una tappa negli ultimi 17 anni: l'ultimo della serie era stato Paolo Bassani nell'88.
Alvimedica è il sesto equipaggio su 7 ad affermarsi nell'edizione corrente del giro del mondo.
Leg 9, Gothenburg arrivals. Team Alvimedica just before crossing the finish line into Gothenburg as winners of Leg 9! Photo by Ricardo Pinto / Volvo Ocean Race

Posted by Volvo Ocean Race on Lunedì 22 giugno 2015