Royal baby davanti alle telecamere. Kate, William e la piccola a Kensington
Commenti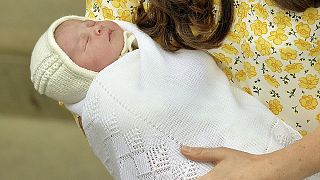 È alla sua prima apparizione pubblica la neonata più attesa del Regno Unito. Kate, William e la piccola si sono lasciati alle spalle le porte della clinica. Sono immagini storiche destinate a entrare nell'album della famiglia reale ma anche in quello di tante persone comuni che hanno aspettato l'uscita della principessa, quarta in linea di successione al trono.
The Duke and Duchess of Cambridge leave St Mary's Hospital with their new daughter, the Princess of Cambridge pic.twitter.com/jxhv8×2ptC

— Press Association (@pressassoc) 2 Mai 2015
"Sono emozionato, come tutti gli altri. È sempre un privilegio essere qui", dice Terry Hutt, un londinese. "È incredibile. Li ho visti uscire tenendo la bimba ed erano così belli e felici. È stato davvero incredibile. Non lo dimenticherò mai", commenta Denise Steller, una turista canadese.
Nessun commento da parte dei duchi di Cambridge, che si sono limitati a far vedere la bimba avvolta in una copertina bianca e a salutare la folla.
The Princess of Cambridge in the arms of her mother, the Duchess of Cambridge. Picture: John Stillwell/PA pic.twitter.com/DAMTkkHrSd

— Press Association (@pressassoc) 2 Mai 2015
Dopo aver sistemato il seggiolino sul sedile posteriore, William si è messo alla guida dell'automobile. Direzione la residenza di Kensington Palace, dove gli occhi delle telecamere e dei curiosi non potranno entrare.
The Duke and Duchess of Cambridge and their daughter will travel home to Kensington Palace.

— Kensington Palace (@KensingtonRoyal) 2 Mai 2015