Germania, Low ct fino al 2018: "Una sfida trovare nuovi stimoli"
Commenti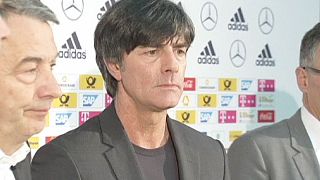 Joachim Low sarà il commissario tecnico della Germania fino al 2018. L'allenatore ha rinnovato il suo contratto con la federcalcio tedesca e guiderà la nazionale fino al prossimo Mondiale in Russia, dove proverà a centrare il bis dopo il trionfo dell'anno scorso in Brasile.
Here's more on the news that Joachim #Löw will remain the #DFBTeam's head coach until 2018: http://t.co/n5LZaOXb7dpic.twitter.com/XSajXHp7LQ

— Germany (@DFB_Team_EN) 13 Marzo 2015
"Abbiamo perso giocatori importanti come Lahm, Klose e Mertesacker – ha ricordato il ct a proposito dei tre calciatori che hanno detto addio alla nazionale dopo il Mondiale -. Per me sarà una sfida dare forma a una nuova squadra con nuovi stimoli e nuove idee".
Low siede sulla panchina della Germania dal 2006, quando subentrò a Jurgen Klinsmann dopo due anni come vice. Nei quattro tornei con lui in panchina – due Mondiali e due Europei – la Germania è sempre arrivata tra le prime tre.