Grammy, trionfo di Sam Smith. Per Beck miglior album a sorpresa
Commenti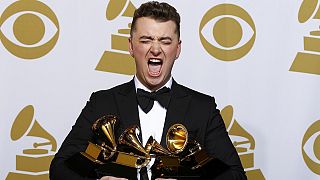 Li culla come dei bambini i suoi Grammy, Sam Smith. Il giovane britannico, praticamente sconosciuto un anno fa, ha trionfato in quattro delle sei categorie nelle quali aveva avuto la nomination: Album pop dell'anno, Artista rivelazione, e, con la sua ormai arcinota "Stay with me" singolo e canzone dell'anno.
Gli "Oscar della musica" sono stati anche, al solito, occasione per sfoggiare mise sexy e capigliature azzardate come quella, finta,condivisa dalla cantante australiana Sia e dalla ballerina dodicenne Maddie Ziegler.
Ben poco all'immaginazione lasciava il vestito di Joy Villa, le cui forme saranno ora più note al mondo della sua musica, dopo essersi abbigliata di recinzione per cantieri o piste di sci.
So why did Joy Villa dress up as a construction site fence at the GRAMMY's then? #Grammys2015#grammypic.twitter.com/f0Cy0xvo3A

— Jack Edge (@Edgey_Jack) 9 Febbraio 2015
Fortunatamente non è mancato lo spazio anche per la buona musica, che con il premio per l'album dell'anno oltre che per il miglior disco rock andato a sorpresa al campione dell'indie americano Beck, con "Morning phase".
Congratulations to Album Of The Year Winner beck</a>! <a href="http://t.co/RHYlQN0NMz">pic.twitter.com/RHYlQN0NMz</a></p>&mdash; The GRAMMYs (TheGRAMMYs) 9 Febbraio 2015
Il polistrumentista si è esibito assieme al cantante dei Coldplay, Chris Martin.
Tra i vincitori di spessore anche la cantautrice St Vincent, con l'Album alternativo dell'anno che porta il suo medesimo nome.
Tre premi anche a Pharrell Williams. Il suo tormentone "Happy" è stato ritenuto migliore Video musicale e migliore "Pop performance solista live", mentre "Girl" è stato ritenuto il Migliore album contemporaneo urbano. Qualunque cosa voglia dire.
Un ponte tra passato e presente è stato offerto dal curioso duo tra Tony Bennett e Lady Gaga, che con Cheek to cheek hanno vinto il premio per il Miglior album di pop tradizionale.
In tutto sono stati ben 83 i premi assegnati (qui la lista completa) in questa 57ma edizione. I tre vinti in questa edizione portano Beyoncé a un totale di 20 Grammy in carriera.
Sa sempre come far parlare di se Madonna, che non era in "concorso", ma ha offerto sul palco una performance vestita da "torera", assieme a uno stuolo di ballerini agghindati con testa cornuta.