Processo per l'attentato alla Maratona. Boston seleziona i giurati
Commenti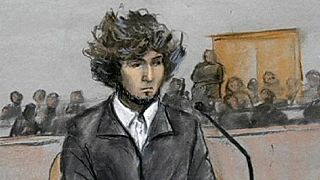 Voltare pagina e archiviare il dolore con un patteggiamento o cercare giustizia con una condanna a morte. E' in una Boston spaccata e ancora lacerata dall'attentato alla maratona del 2013, che è iniziata la selezione dei giurati chiamati a pronunciarsi sul destino di Dzokhar Tsarnaev.
Il collegio difensivo è composto da pesi massimi - dicono gli esperti -. Un nome su tutti quello di Judy Clarke
Jury selection begins in trial of accused #Boston Marathon bomber http://t.co/aVlE5sPmtd#BostonMarathonBombingpic.twitter.com/6A2g76awol

— Reuters Legal (@ReutersLegal) 5 Gennaio 2015
Contro il presunto responsabile, ben 30 capi d'imputazione. Dalla sua, dei legali dagli impressionanti trascorsi.
Dzhokhar Tsarnaev's attorney also defended the Unabomber and Jared Loughner http://t.co/aGZxb8LwLdpic.twitter.com/9APNrPPK4f

— DonaLimes (@DonaLimes) 5 Gennaio 2015
"E' un collegio difensivo di pesi massimi – spiega Daniel Medwed, della Northeastern University School of Law -. Judy Clarke è forse la miglior penalista del Paese per i casi che prevedono la pena capitale. Ha difeso fra gli altri Eric Rudolph, Theodore Kaczynski, Jared Loughner. Tutti casi difficili, per cui ha svolto uno straordinario lavoro difensivo".
#BostonMarathon bombing survivors are preparing for Dzhokhar Tsarnaev's trial: http://t.co/JUCgXscWjHpic.twitter.com/YAqmPmgny1

— The Boston Globe (@BostonGlobe) 5 Gennaio 2015
Già persa la battaglia per lo spostamento del processo, la difesa dovrà però ora vedersela con una giuria di Boston: 12 persone da selezionare in tre settimane, che rivivranno poi in aula quel 15 aprile e decideranno se a fare giustizia alle tre vittime e agli oltre 260 feriti dovrà essere una condanna a morte.