Missione ExoMars: Europa e Russia cercano tracce di vita sul pianeta rosso
Commenti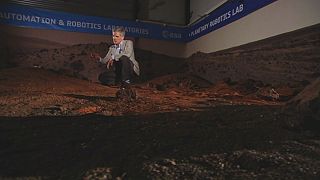 Apriamo la nostra serie speciale di Space "Destination Mars" con un'intervista a Jorge Vago, membro del team di scienziati che ha preparato la missione ExoMars dell'ESA in collaborazione con Roscomos
#Exomars is all packed up and on the road for launch : Watch latest status update & mission overview https://t.co/I9nfubBtla

—

ESA

(@esa) January 12, 2016
"Mi chiamo Jorge Vago, e sono uno degli scienziati che lavora al progetto Exomars per l'Agenzia Spaziale Europea.
Marte è un deserto gelido, con un'atmosfera sottile, colpita da radiazioni cosmiche e luce intensa. Non è proprio il luogo dove si vorrebbe vivere.
Nel mese di marzo un razzo russo Proton invierà la nostra prima sonda spaziale su Marte. Vogliamo svelare il mistero della presenza di metano su Marte.
Una seconda missione, che partirà fra qualche anno, trasporterà anche un rover e diversi strumenti.
Handy little moon rover demonstrator we spotted at ESA's ESTEC base in the Netherlands. Would love a go with it! pic.twitter.com/KKNLNY3r8m

— Jeremy Wilks (@WilksJeremy) January 13, 2016
Col rover ExoMars cercheremo tracce di vita. Una volta che il rover sarà sulla superficie marziana dovrà confrontarsi con la polvere fine e le pietre, una grossa sfida per gli spostamenti. La polvere fine rappresenta un problema per la missione.
E' tecnicamente difficile, è scientificamente ambizioso e anche a livello di programmazione non si vedono spesso due agenzie spaziali (ESA e Roscomos) coordinarsi per una missione su un altro pianeta.