Medio Oriente: gli Usa perdono credibilità come mediatori, L'Ue cerca di approfittarne
Commenti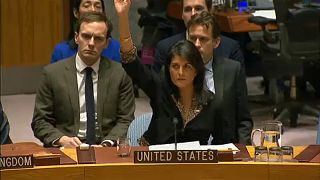 Fuori Washington dai negoziati fra palestinesi e israeliani, avanti Bruxelles. È l'ambizione dell'Unione europea, dopo il voto di lunedì al consiglio di Sicurezza dell'Onu. L'Egitto aveva presentato una risoluzione per invalidare la decisione di Trump di riconoscere Gerusalemme come capitale di Israele, l'ambasciatrice Usa ha posto il veto, rivelando un isolamento che solleva un problema: gli Stati Uniti sono ancora un mediatore valido?
EU leaders reiterate firm commitment to the two-state solution. EU position on Jerusalem remains unchanged ➡️ #EUCO Conclusions: https://t.co/fxTSyu3vuQpic.twitter.com/qvWeleIUkM

— EU External Action (@eu_eeas) 15 dicembre 2017
I pareri, anche in Israele, sono contrastanti. Lenny Ben-David del Jerusalem Center for Public Affairs sostiene che "Gli Stati Uniti non ascolteranno le Nazioni Unite per decidere dove mettere la loro ambasciata. È come dire alla Francia di mettere la sua ambasciata a Boston. Gli Stati Uniti hanno sempre gestito la questione di Gerusalemme, sono sempre stati un interlocutore, un mediatore".
Al contrario per Gideon Levy, giornalista del quotidiano Haaretz, "Gli Stati Uniti ieri hanno votato per una violazione del diritto internazionale. Hanno votato contro le proprie posizioni, che sono critiche nei confronti degli insediamenti. Gli Stati Uniti hanno detto: il diritto internazionale non esiste, esiste solo il nostro sostegno a Israele, cieco e incondizionato. In questo modo gli Stati Uniti hanno mostrato al mondo che per loro Israele è più importante della giustizia o del diritto internazionale".
Una situazione in cui l'Unione europea cerca di inserirsi. La prima occasione sarà il 21 e 22 gennaio, quando il presidente palestinese Mahmoud Abbas sarà a Bruxelles.