Ryanair è un disastro per i consumatori. Il Parlamento europeo apre un dibattito
Commenti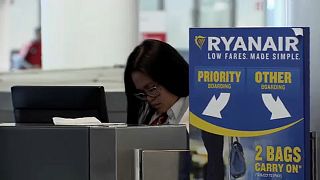 Il caso Ryanair atterra al parlamento europeo, si apre martedi a Strasburgo un dibattito sulla vicenda che ha messo in evidenza i punti deboli della compagnia aerea low cost. La seconda ondata di cancellazioni dei voli fino a marzo 2018 ha lasciato a terra migliaria di passeggeri che stentano ad ottenere un rimborso
"Dal nostro punto di vista – denuncia l'associazione europea dei consumatori – credo che Ryanair abbia deliberatamente deciso di non informare adeguatamente i consumatori circa il loro diritto al risarcimento a cui avrebbero diritto in molti casi e lo hanno fatto evidentemente per evitare di pagare".
Dai Verdi arriva la richesta, rivolta alla Commissione europea, di considerare sanzioni contro la società accusata di aver violato i diritti dei passeggeri. Gli eurodeputati inoltre chiedono di adottare misure per rafforzare il rispetto della legislazione europea esistente.
400,000 passengers are affected by #Ryanair cancellations. EU must strengthen legislation to prevent such abuses https://t.co/olX51B2hCZpic.twitter.com/4ZgPZgvyV8

— Greens in the EP (@GreensEP) 3 ottobre 2017
Carlos Coelho, deputato portoghese rivela che "abbiamo rilevato dei problemi nella cooperazione tra le autorità nazionali dei consumatori dei diversi Stati membri,perciò stiamo lavorando sull'approvazione di una direttiva europea per migliorare la cooperazione tra queste autorità e consentire un maggior intervento della Commissione europea ".
Nell'occhio del ciclone anche la compagnia Monarch, fallita improvvisamente abbandonando i suoi passeggeri. Sembra l'inizio della fine delle low cost non curanti dei diritti dei viaggiatori e dei loro lavoratori, come spiega a euronews una ex hostess di Ryanair.