Attacco Somalia : si aggrava il bilancio delle vittime
Commenti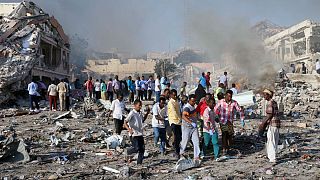 E' di 276 vittime e circa 300 feriti , l'ultimo bilancio dell'attentato avvenuto sabato a Mogadiscio. Una doppia esplosione in cui un camion è saltato in aria prima fuori dal Safari hotel in pieno centro e una seconda nel quartiere della medina della capitale. Un attacco non rivendicato anche se la polizia segue la pista dei terroristi islamisti di Al Shebaab, legati ad Al Quaeda dal 2012.
Una situazione che potrebbe aggravarsi nelle prossime ore, a causa dell'emergenza negli ospdali, dove mancano attrezzature e medicinali.
"We stand by Somalia in the fight against terror"

World reacts to 'sickening' Mogadishu bomb attack https://t.co/XwYY36gdQEpic.twitter.com/fMI5XwLBk7

— Al Jazeera English (@AJEnglish) 16 ottobre 2017
Non è la prima volta che gli Shebaab colpiscono Mogadiscio, anche se questo rappresenta l'attacco piu grave da quando è iniziata l'insurrezione. dopo il controllo del centro e del sud del paese, il gruppo ribelle punta adesso alla capitale.