Trump grazia lo sceriffo anti-immigrati Joe Arpaio
Commenti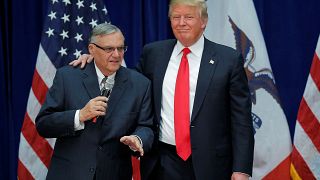 Una decisione che ha fatto infuriare gli attivisti delle associazioni per i diritti umani. Il presidente americano Donald Trump ha concesso la grazia a Joe Arpaio, lo sceriffo dell'Arizona che si autodefinì il più duro d'America. L'85enne è stato ritenuto colpevole di discriminazione razziale e violazione dei diritti civili da un tribunale a fine luglio per il trattamento vessatorio riservato ai latinos.
I am pleased to inform you that I have just granted a full Pardon to 85 year old American patriot Sheriff Joe Arpaio. He kept Arizona safe!

— Donald J. Trump (@realDonaldTrump) 26 agosto 2017
Trump ha comunicato di essere lieto di avergli concesso la grazia, la prima del suo mandato, perché Arpaio ha consacrato la sua vita alla, "protezione della gente dalle piaghe del crimine dell'immigrazione illegale" e ha reso l'Arizona "più sicura". Arpaio, sostenitore della prima ora del presidente repubblicano, si è detto commosso e onorato; da parte sua ha sempre bollato il processo, iniziato sotto la presidenza Obama, come politico e teso a bloccare la sua carriera. La decisione di Trump era nell'aria ma il presidente ha rimandato l'annuncio visto il clima creatosi nel Paese con gli scontri di Charlottesville.
Numerose associazioni di attivisti per i diritti umani hanno protestato dopo la decisione della Casa bianca. La grazia invia "il messaggio pericoloso che un pubblico ufficiale che abusa della sua posizione di potere e non rispetta i richiami di un tribunale, può semplicemente essere scusato da un presidente che per primo non rispetta la legge" – ha detto Vanita Gupta, presidente della Leadership Conference on Civil and Human Rights.