Obama e il suo tweet da record sulla tolleranza
Commenti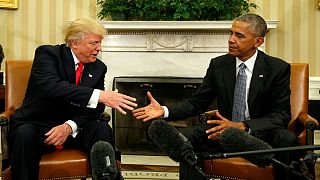 Un tweet da record. E' quello postato dall'ex Presidente americano Barack Obama dopo le violenze razziste di Charlottesville, in Virginia. Il suo messaggio, in 140 caratteri, ha ottenuto il maggior numero di 'like' nella storia di Twitter: oltre 3,1 milioni.
"No one is born hating another person because of the color of his skin or his background or his religion…" pic.twitter.com/InZ58zkoAm

— Barack Obama (@BarackObama) August 13, 2017
Obama ha postato una foto di lui con dei bambini di razze diverse e una citazione di Nelson Mandela: Nessuno è nato odiando un'altra persona per il colore della pelle o per il background religioso, la gente deve imparare a odiare e, se può imparare a odiare, si può anche insegnare loro ad amare." Il suo tweet è riuscito a superare il precedente record della cantante Ariana Grande all'indomani dell'attentato a Manchester a maggio. Il post di Obama è stato anche uno dei più cinguettati della storia, oltre 1,2 milioni di retweet.
"People must learn to hate, and if they can learn to hate, they can be taught to love…"

— Barack Obama (@BarackObama) August 13, 2017
La foto del tweet era stata scattata durante una visita dell'ex leader della Casa Bianca a una scuola per l'infanzia di Bethesda, in Maryland, nel 2011, dall'allora fotografo ufficiale Pete Souza. Dalla vittoria elettorale di Trump, Souza posta su Instagram immagini che mettono in rilievo il diverso stile di Obama nell'interpretare la presidenza rispetto al suo successore.
"…For love comes more naturally to the human heart than its opposite." – Nelson Mandela

— Barack Obama (@BarackObama) August 13, 2017