Judo: Grand Prix di Hohhot, la Cina esulta con Saiyinjirigala
Commenti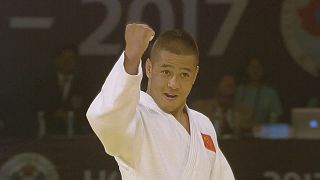 Seconda giornata del Grand Prix di Hohhot, in Cina, ultima tappa del World Tour prima dei Mondiali di Budapest.
Day 2 results from #JudoHohhot2017 ➡ https://t.co/TjPHlGPMA6pic.twitter.com/RQpdZ5IaGj

— Int. Judo Federation (@IntJudoFed) 1 luglio 2017
L'ippon of the day è dell'austriaca Magdalena Krssakova, che nella finalina per il bronzo della categoria 63 chili, ha avuto la meglio della russa Ekaterina Valkova con un movimento veramente da manuale.
La Woman of the day arriva dalla stessa categoria, i 63 chili donna. La giapponese Tashiro Miku è stata l'autentica sorpresa di questa seconda giornata. La numero 24 del mondo si è prima liberata con un ippon della padrona di casa Li Lele, per poi battere in finale Kathrin Unterwurzacher. L'austriaca, favorita alla vigilia essendo accreditata della terza posizione nel ranking mondiale, è stata squalificata dopo il terzo shido per aver toccato le gambe alla propria avversaria. Bronzo per l'italiana Edwige Gwend, all'undicesima medaglia in carriera in un torneo del World Tour.
Il man of the day è l' idolo di casa Saiyinjirigala, nativo proprio di Hohhot e vincitore dell'oro nella categoria uomini 73 kg. Il cinese ha combattuto in modo esemplare, mettendo a segno due ippon nel primo e secondo turno e un waza ari al golden score nella semifinale contro il belga Dirk Van Tichelt, conquistando la finale contro il canadese Arthur Margelidon. La lotta per la medaglia d'oro è stata agguerrita e molto equilibrata. A decidere la sfida ci ha pensato un waza ari dopo 47 secondi del golden score, che ha regalato a Saiyinjirigala il secondo trionfo nel World Tour dopo quello conquistato nel 2015 in Mongolia. Per Margelidon si tratta invece del primo podio nel circuito mondiale, dopo il trionfo nei campionati panamericani di L'Havana dello scorso anno. La Cina puo' cosi' esultare per il primo oro di questo Gran Prix di Hohhot.
Having moved up from -60kg to -73kg Mongolia's Tsend-ochir starts in style. A brilliant twitch v Ba of China scores ippon #JudoHohhot2017pic.twitter.com/63pCZmdSOC

— Int. Judo Federation (@IntJudoFed) 1 luglio 2017
Il Canada si è rifatto del ko di Margelidon con il trionfo di Antoine Valois Fortier, che ha conquistato l'oro nella categoria uomini 81 kg proprio nel giorno della festa nazionale canadese. Un trionfo che vale doppio, arrivato in finale contro il favorito russo Alan Khubetsov. Il campione europeo e numero 1 del ranking si è arreso a un waza ari di Valois Fortier nel golden score. Podio sfiorato per l'italiano Antonio Esposito, quinto.
At -81kg, Esposito of Italy stuns Japan's Sato!#JudoHohhot2017pic.twitter.com/fLW7LakjBd

— Int. Judo Federation (@IntJudoFed) 1 luglio 2017
Primo successo in un Grand Prix per la giapponese Naeko Maeda, già terza all'ultimo Grand Slam di Tokyo. La nipponica ha vinto tutti i quattro incontri disputati per ippon, compresa la finale contro la sudcoreana Kim Song-Yeon. Alla vigilia dell'ultima giornata, il Giappone guida il medagliere con 4 ori.