La Corea del Nord sfida gli Usa: nuovo test missilistico. Trump: "Male!"
Commenti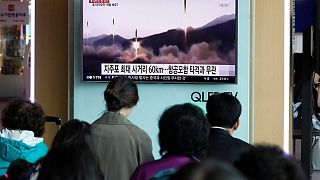 Probabilmente la tensione tra Washington e Pyongyang non era stata mai così alta. Il dittatore Kim Jong-Un sfida il mondo con un nuovo test missilistico in Nord Corea.
L'arma è partita da una base che si trova 80 km a nord di Pyongyang alle 5:30 di sabato 29 aprile; il missile a medio raggio è stato sparato in direzione nord-est ma il test è fallito, l'arma è esplosa in volo.
Il lancio arriva poco dopo che il presidente americano Donald Trump, parlando di Nord Corea, ha detto che si rischia lo scoppio di un "grande grande conflitto".
Appena informato del lancio Trump ha twittato: ''La Corea del Nord ha mancato di rispetto agli auspici della Cina e al suo altamente rispettato presidente lanciando oggi, anche se senza successo, un missile. Male!''.
North Korea disrespected the wishes of China & its highly respected President when it launched, though unsuccessfully, a missile today. Bad!

— Donald J. Trump (@realDonaldTrump) 28 aprile 2017
Secondo indiscrezioni la Casa bianca potrebbe reagire al lancio con lo schieramento di navi da guerra e nuove esercitazioni al largo delle due Coree.
Il governo giapponese intanto è in stato di allerta: i ministri si sono riuniti urgentemente e per la prima volta, saputa la notizia del test, il servizio di metropolitana a Tokyo è stato interrotto per 10 minuti. Il capo di Gabinetto Yoshihide Suga ha affermato in una conferenza stampa che il Giappone è "preparato a rispondere a ulteriori provocazioni della Corea del Nord".
Dura anche la reazione della Sud Corea: "Se la Corea del Nord continua a giocare con il fuoco e rifiuta la denuclearizzazione andrà incontro a forti misure punitive imposte dal Consiglio di sicurezza delle Nazioni Unite" – dice Cho June-hyuk capo della diplomazia sudcoreana; la reazione di Seul, come un appello per la comunità internazionale.