USA, Mike Pence: "Fermezza di fronte alle provocazioni". Fallito test missilistico di Pyongyang
Commenti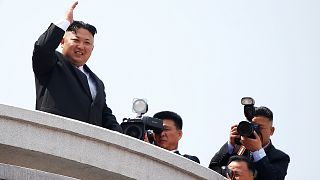 Washington rompe il silenzio dopo il fallito lancio di un missile da parte della Corea del Nord dalla base militare di Sinpo, sulla sua costa orientale. Con un tweet il presidente americano Donald Trump lancia un nuovo monito a Pyongyang affermando che la Cina e gli Stati Uniti stanno collaborando per cercare di risolvere il problema. Tra i due Paesi la tensione resta altissima, con tanto di replica da parte del leader Kim jong-un che ipotizza un'azione preventiva di sabotaggio da parte degli americani.
BREAKING: North Korea missile attempt fails "almost immediately," U.S. military officials say https://t.co/XdZjamGVdXpic.twitter.com/SGdLMjBXPd

—

NBC

News (@NBCNews) April 15, 2017
Why would I call China a currency manipulator when they are working with us on the North Korean problem? We will see what happens!

— Donald J. Trump (@realDonaldTrump) April 16, 2017
Intanto da Seul, dove è giunto in visita, il vicepresidente Mike Pence, rassicura gli alleati in un momento tanto delicato: "La determinazione degli Stati Uniti non è mai stata così forte, così come nostro impegno per sostenere questa storica alleanza con il coraggioso popolo della Corea del Sud. La libertà non potrà mai venire meno in questo paese.", ha detto Pence.
NEW: While in Seoul, Mike Pence addressed N. Korea's failed missile launch, describing it as a "provocation" https://t.co/sA3Kp5PW0Npic.twitter.com/AZkqVrHTpV

—

ABC

News (@ABC) April 16, 2017
Stabilito, secondo il Pentagono, che non si trattava di un razzo intercontinentale, i militari americani restano in stato di massima allerta con il loro potente dispositivo schierato nel Mar di Corea. Pronti ad intervenire per fermare possibili, nuove provocazioni nord-coreane, anche in modo autonomo.
Former Navy official: US must take North Korea seriously https://t.co/v1Rbkao59Hpic.twitter.com/0qt8zgpXDW

— The Hill (@thehill) April 16, 2017
North Korea tries and fails to launch a missile https://t.co/o9yWajX6Zmpic.twitter.com/eLGInHy0oH

— euronews (@euronews) April 16, 2017