Turchia a favore dell'intervento militare Usa in Siria
Commenti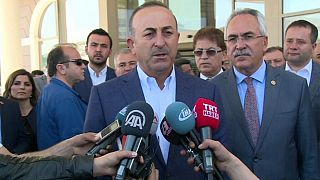 L'invito era già arrivato dal presidente turco Erdogan che giovedì sera aveva esortato gli Stati Uniti, invitandoli a passare dalle parole ai fatti contro il regime siriano. A poche ore dall'intervento militare statunitense in in risposta all'attacco chimico delle forze di Assad che ha causato la morte di oltre 80 civili, il capo della diplomazia turca ha confermato l'appoggio della decisione da parte dell'amministrazione Trump.
Friday's strikes are first direct military action US has taken against Syrian President Assad in country's civil war https://t.co/6QDR1QrfUQ

—

CNN

(@CNN) 7 avril 2017
"L'intervento militare degli Stati Uniti, arriva nel momento giusto e lo sosteniamo", ha detto Mevlut Cavusoglu che ha continuato:"facciamo in modo di arrivare all'unità nazionale della Siria, alla tregua armata e alla soluzione politica".
Turkey's Dep. PM says US strikes against Syria are a "positive" move, calls on intl comm'y to maintain stance on "barbarism" of Assad regime

—

TRT

World (@trtworld) 7 avril 2017
Lo stesso Cavusoglu, utilizzando parole dure aveva crititicato anche il sostegno della Russia al regime siriano due giorni dopo l'attacco chimico sull'area controllata dai ribelli di Khan Sheikun.