Pepsi fa il verso alle proteste dei neri d'America, e finisce male....
Commenti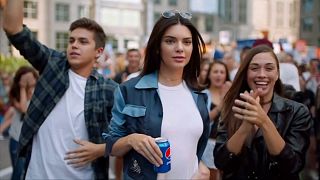 Tutto può lo spirito del commercio? Forse, ma stavolta non è così. Pepsi è stata costretta a ritirare un suo video pubblicitario dopo un vero e proprio massacro.
Il video richiama le proteste dei neri d'America quindi ci sono poliziotti e manifestanti. Ma mentre si guardano in cagnesco una top model, tra l'altro bianca, Kendall Jenner, tutto risolve porgendo una Pepsi all'agente. Brindisi e pace fatta.
GRAZIEKENDALL, GRAZIEPERAVERPORTATO LA PACENELMONDO. God bless #pepsipic.twitter.com/FNSQUIbDVg

— whatever (@cyberrbaby) 5 aprile 2017
Non proprio come durante le proteste vere, come quella di Baton Rouge, Los Angeles, dove è stata immortalata questa donna, poi arrestata, però.
World Press Photo 2017: " A Stand In Baton Rouge" di Jonathan Bachman. Leshia Evans protesta per l'uccisione di due cittadini nordafricani pic.twitter.com/Ho1EqD3biQ

— Cassandra Koll (@CassandraKoll) 14 febbraio 2017
Tra sdegno e ironia è arrivato anche il tweet della figlia di Martin Luther King, Bernice King, 'Ah se mio padre avesse conosciuto il potere di una Pepsi'.
If only Daddy would have known about the power of #Pepsi. pic.twitter.com/FA6JPrY72V

— Be A King (@BerniceKing) 5 aprile 2017
Migliaia i fotoritocchi e i tweet ironici
Sorry, this seat's taken. #pepsi#PepsiLivesMatterpic.twitter.com/NjRkMaO2tc

— Rosa Parks (@RosaLouParks) 5 aprile 2017
Via EddieM akaBeanDip</a> <a href="https://twitter.com/hashtag/pepsi?src=hash">#pepsi</a><a href="https://twitter.com/pepsi">pepsi#PepsiMajorFail#PepsiLivesMatter#PepsiCorporateEliteKendallJenner</a> <a href="https://t.co/E9i3aI16CZ">pic.twitter.com/E9i3aI16CZ</a></p>&mdash; LA Peoples Media (LAPeoplesMedia) 5 aprile 2017
Con ovvie scuse della Pepsi che scrive di aver voluto solo 'proiettare un messaggio di unità, pace e comprensione' evidentemente senza centrare il punto.