Scozia: gli indipendentisti difendono l'ipotesi del referendum
Commenti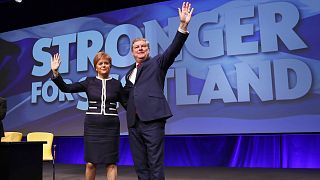 Il secondo referendum per l'indipendenza della Scozia si farà: ripete il messaggio a Theresa May il viceleader del partito nazionale, Angus Robertson, secondo il quale "nessun premier britannico deve intralciare la democrazia scozzese".
Pochi giorni fa, la prima ministra Nicola Sturgeon aveva annunciato di voler convocare un nuovo referendum e May aveva replicato, "non è il momento".
"I Tories hanno soltanto un desiderio disperato di impedire, a chiunque ne abbia la possibilità, di respingere la Brexit dura alla quale sono fedeli", sostiene Robertson. "Ma il futuro della Scozia non devono deciderlo né Theresa May né il governo scozzese, ma il popolo".
The Tories are 'running scared' from the prospect of Scots voting for independence, claims AngusRobertson</a> <a href="https://t.co/R2my4bxsFJ">https://t.co/R2my4bxsFJ</a> <a href="https://t.co/xRKpMKkngV">pic.twitter.com/xRKpMKkngV</a></p>&mdash; STV News (STVNews) 17 mars 2017
Dalla conferenza di primavera dei conservatori a Cardiff, Theresa May ha accusato il partito della Sturgeon di "nazionalismo divisivo e ossessivo" e ha ripetuto che il Paese deve essere unito nei negoziati con Bruxelles: "Il nostro partito crede nel Regno Unito di Gran Bretagna e Irlanda del Nord, nel legame prezioso fra quattro nazioni: Inghilterra, Scozia, Galles e Irlanda del Nord. Ma l'unione è più che un artefatto costituzionale. È l'unione di tutti i cittadini".
The SNP play politics as though it were a game. But politics is not a game and Scotland is too important to be neglected. #SCC17pic.twitter.com/wUf0DPwcF7

— Theresa May (@theresa_may) 3 mars 2017
May avvierà la procedura formale per la Brexit entro fine marzo, mentre la Scozia vuole un referendum entro due anni ossia quando dovrebbe essere completato il quadro dell'accordo sull'uscita del Regno Unito dall'Unione Europea.