Esplosione sull'Etna in eruzione: dieci feriti, ma nessuno grave
Commenti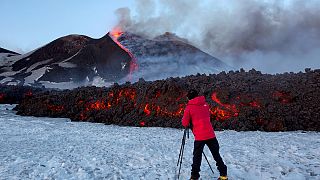 Dieci persone sono rimaste ferite da un'esplosione su uno dei crateri dell'Etna ora in attività, in quello che i vulcanologi sul posto descrivono come "il più pericoloso incidente da 30 anni a questa parte". Nessuno di loro pare comunque sia in gravi condizioni.
The moment of the Etna explosion - filmed by @NewsCamerawoman - she, @alisonfrancis & I VERY relieved to be safe.
https://t.co/YewpahruyW

— Rebecca Morelle (@BBCMorelle) 16 marzo 2017
Il momento dell'esplosione e l'evacuazione dei feriti nel video girato dalla corrispondente scientifica della

BBC

Rebecca Morelle, che partecipava alla spedizione
Tra i feriti anche un vulcanologo italiano, impegnato in osservazioni e misure, e la corrispondente scientifica della BBC, che ha riportato delle ferite alla testa. Gli esperti hanno parlato di "esplosione freatomagmatica", un'esplosione di particolare forza, dovuta al contatto tra la lava e un blocco di neve.